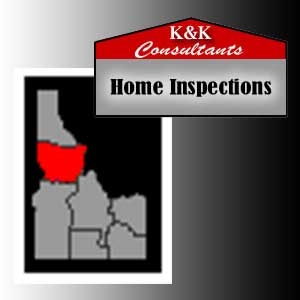 K&K Consultants Home Inspections & More.
613 Bryden Avenue

Suite C178

Lewiston

,

Idaho

83501
(888) 670-8128
Website
About
ASHI Home Inspection offers not only a thorough and comprehensive inspection but also offers security and peace of mind. Knowing the homes condition that you're planning to buy guarantees you a fair and smooth transaction, as well as an additional chance to negotiate a better deal (especially if there are problems that the home inspection uncovers). K & K Home Inspections expert Dean Kalmukos, is the leading home inspector in the area of Idaho County, Lewis County and Nezperce County. K&K is also licensed in Washington and serves the eastern region of Pullman and nearby communities.

HOME INSPECTIONS

Why is a home inspection so critical to your home or building purchases? You can't always see and know everything about the condition of the roof, chimneys, siding and trim, foundation, attic ventilation, electrical wiring, plumbing, furnace, and air conditioner. A home inspection will uncover man of those hidden problems and is always a prudent step before purchasing a home or if you're a seller preparing your home for the market.

Dean Kalmukos offers a high quality HOME INSPECTION that is thorough, takes into account an in-depth visual examination of the structure and operating components of the home, performed by a trained professional. Reporting provided is easy to understand and clarifies any issues with the structure, from minor to critical.

MOLD INSPECTIONS

K & K Home Inspections is also certified to offer MOLD INSPECTION services, if you suspect your residence or commercial office building is hiding mold. As a certified mold inspector, I see a fairly consistent pattern of what appears to be mold, mildew and other organic materials growing on attic sheathings, crawlspaces, shower stalls, bedroom closets and root cellars. The mold growth issues all have one thing in common – elevated moisture and insufficient ventilation. If you suspect mold in your home, don't wait to obtain a mold inspection from a certified and experienced mold inspector.

K&K Consulting offers Mold Inspection Services to help you determine where your mold problems are coming from. Mold is like any other plant. Its primary function in nature is to decompose dead organic material. Mold therefore needs three elements to exist – mold spores, an organic substrate and moisture.
Mold spores are everywhere at all times, you are breathing them now! Our homes and places of work are full of organic materials – wood, drywall, paints, carpets, soil in crawlspaces and food products. Moisture is also present in all our homes and places of business by virtue of the fact that we are constantly expelling moisture. Additional moisture comes from our kitchens, bathrooms, laundry rooms, damp crawlspaces and basements.

For home inspectors, every day is different, but the same! Some days we inspect "cream puffs" (really nice homes) and some days we inspect "non-cream puffs". Some of things we see are really interesting and leave us scratching our heads and then some days they make perfect sense. We climb roofs for a reason. One of these days we will be employing drones to do this work. Then there are the tiny little crawlspaces that no one ventures into, except us. We find some very interesting plumbing arrangements on occasion. Then there is the reason we climb into attics - things like charred wood structure members are not "normal".

If you're buying a home, it really pays to hire a certified, experienced home inspector. Most of the problems we see are because of those EXTRA steps we take to inspect the roof, inspect the attic, inspect the crawlspaces. If you don't have a home inspection and something turns out to be very wrong about the house you purchase, you have no legal recourse.

Did you know home inspections actually provide new opportunities to negotiate your deal? If there are problems uncovered by a home inspection, you, the buyers, have every right to counter the original deal based on a contingency for a good home inspection.

Do yourself the biggest favor every when buying a home and pay for a home inspection from a reputable, experienced, certified and licensed home inspection professional.

Dean Kalmukos of K & K Home Inspections is ASHI certified.

Whether you need a qualified, licensed home inspector, certified mold inspector, structural inspections or commercial pest inspections, contact Dean Kalmukos, Consulting Inspector at kandkhomeinspections.com
CONTACT INFORMATION
Phone: (888) 670-8128
Mobile: (208) 790-1228
Fax: (208) 935-7790
Toll Free: (888) 670-8128
Email: dean@kandkhomeinspections.com
Website: kandkhomeinspections.com
Facebook: www.facebook.com/knkhomeandmoldinspections
ADDITIONAL INFORMATION:
Special Offer: Mold Inspection Services by Certified Inspector.
Videos: Http://Www.Youtube.Com/Watch?V=Nj2bo3c7m1e
Special Hours: Inspection Time Slots Are: 8:30Am To 12:30Pm and 2Pm To 6Pm

CATEGORIES:
HOURS OF OPERATION
MONDAY: 8:00AM - 8:00PM
TUESDAY: 8:00AM - 8:00PM
WEDNESDAY: 8:00AM - 8:00PM
THURSDAY: 8:00AM - 8:00PM
FRIDAY: 8:00AM - 8:00PM
SATURDAY: 9:00AM - 4:00PM
SUNDAY: CLOSED.
Reviews