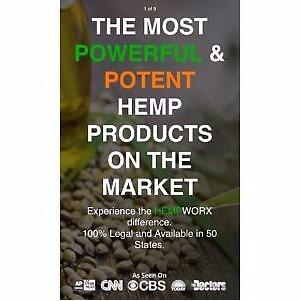 ??Amazing Healthy Hemp & More??
About
These Hemp CBD oil is the Purest form of Organic Hemp oil products on the market an more. No THC... The bottle is 1 ounce dropper of phytocannabinoids which is processed naturally without chemicals. All organic the purest CBD hemp oil I can find. I had pain in my hands... by using these products. I no longer need an operation. Yeah!

The hemp oil comes in a natural flavor and
Peppermint flavor.

HempWorx's 500mg CBD hemp oil Herbal Drops. Or 750mg CBD hemp oil Herbal Drops have ZERO THC, thus having no known side effects & making it safe to consume at any concentration. As so a pain relief cream available. A hemp oil wrinkle cream also that works is available...

*Pain Relief: Reducing vomiting & nausea, suppresses muscle spasms, reduces seizures & convulsions an pain...

*Promotes Health: Promotes brain tissue & bone growth, reduces blood sugar levels, kills or slows bacterial growth...

*Well Being: Relieves anxiety, Reduces nicotine craving, digestive aid, antipsychotic, inhibits cell growth in tumors/cancer cells...
And much much more...

How to use: As needed. Drop onto your tongue or in food & drinks for a punch.

Thanks for checking this out.... Keep Healthy it's fun an happy...

Can also make money selling healthy products. An help making people healthy an happy just let me know if interested?
Or check out website http://www.hempworxbizop.com/Daisygirl1961

I had pain in my hands I no longer have after taking 3 drops in morning an three drops at night. An I rub a drop on the part of my hands that hurt. After 3 months my hands not hurt. I continue taking drops every day for my health. I feel great... I can even see better...

My mom has macro degeneration in eyes. After taking drops for 5 months went back to eye doctor. Doctor was amazed. My mom's eyes got 40% better... And Mom has fibromyalgia which is pain Thur out a body. It use to take her 3 days to clean house due to pain had to sit down. Now after 5 months on drops she can clean house in one day with little pain. We are hoping the pain goes away totally, but for now she feels souch better an can do so much more....

Try it you will like it...
http://www.hempworx.com/Daisygirl1961
CONTACT INFORMATION
Email: sandrajean6936@gmail.com
Phone: (321) 499-7410
Website: www.hempworx.com/Daisygirl1961
ADDITIONAL INFORMATION:
Special Offer: Easy Way To a Healthy Happy Life Check it Out Now!
Special Hours: Call 321-499-7410
CATEGORIES:
HOURS OF OPERATION
MONDAY: 9:00AM - 9:00PM
TUESDAY: 9:00AM - 9:00PM
WEDNESDAY: 9:00AM - 9:00PM
THURSDAY: 9:00AM - 9:00PM
FRIDAY: 9:00AM - 9:00PM
SATURDAY: 9:00AM - 9:00PM
SUNDAY: 9:00AM - 9:00PM
Reviews