5 Ways Location-Based Marketing Boosts Real-Time Engagement with Customers
Here's how businesses can implement location-based marketing strategies to drive real-time engagement with customers.
There are only a handful of marketing strategies that have proven to be profitable for businesses over the years. Location-based marketing is one of them, as it helps you foster long-term relationships with your customers.
Here's how businesses can implement location-based marketing strategies to drive real-time engagement with customers.
What is Location-Based Marketing?
While numerous definitions of location-based marketing are available, here's the broadest one. It refers to the process of targeting local customers by sending marketing content on their mobile devices.
You can implement local marketing in various ways. Using beacon devices to send content to mobile devices in a specified geographic area is a popular strategy. You can also use a custom QR code to share content with your local customers. Several brands, usually those with substantial marketing budgets, can also invest in experiential marketing. Besides, all forms of offline marketing tactics, such as banner ads and brochures, fall under location-based marketing.
Why Is Location-Based Marketing Critical?
The effectiveness of location-based marketing shouldn't be underestimated. Data from MarTech Series shows that 83% of marketers believe they can run more successful campaigns with location-based data at hand.
Location-based marketing benefits businesses in several ways. When you have location-based data, you can understand your customers better. As a result, you can deliver what your customers need, resulting in better engagement and response. Besides, it also helps strengthen relationships with your customers.
Another reason why location-based marketing is on the rise is that it's mainly smartphone-focused. According to eMarketer, 224 million Americans and 94% of millennials worldwide own a smartphone. Since local marketing technologies – beacons and QR codes – are smartphone-dependent, marketers can expect high rates of engagement.
Marketers often sideline local marketing because of a popular misconception that it provides limited reach. While that's true, the audience is highly specific and has a high buying intent. So, while you may reach a limited audience, the conversion rate will be substantial. Furthermore, it's not a wise choice to focus all your efforts on channels with a declining reach, like social media and search engines. Since offline marketing is a road comparatively less traveled, marketers can obtain exceptional returns without facing much competition.
Which Businesses Should Implement Location-Based Marketing?
The idea behind location-based marketing is to leverage the impulsive buying behavior of consumers. A Statista report shows that more than 45% of purchases made by US consumers aged 18-34 years are impulsive. If you offer products or services that customers might want to avail of without much planning, location-based marketing is for you.
Some businesses that should leverage local marketing are:
Retail Stores: People are always in need of snacks, groceries, food, and other daily use items. Therefore, retail stores can benefit a lot by implementing location-based marketing strategies.
Restaurants and Bars: People walk into restaurants and bars unplanned all the time. How many times have you made your mind to go inside a bar and have a couple of drinks off the bat? If you're a restaurant or bar, local marketing can go a long way in attracting nearby customers.
Spas and Salons: Salons and spas can utilize location-based marketing to encourage more visits and bookings. By sending time-limited discounts and deals, you can bring in more customers to your business.
Healthcare Practices: Clinics, dentists, and small healthcare practices can leverage local marketing to get more customers.
Offline Businesses: Lastly, if you're any type of business with a brick-and-mortar presence, such as a lawyer, consultancy firm, etc., location-based marketing can add value to your business.
The applications of location-based marketing aren't limited to impulsive buying. By implementing the right tactics, you can foster meaningful relationships with your consumers and turn them into loyal customers.
Coca-Cola, one of the most valuable brands worldwide, uses location intelligence to streamline business operations and drive sales. One-third of their vending machines are internet-enabled and share data like which machines are the busiest, which drinks sell the best, etc. Using this data, Coca-Cola understands what their customers need and how to engage them.
How Can Location-Based Marketing Boost Real-Time Engagement?
Incentives – Give Them a Reason to Buy
Incentive marketing is a whole new league of marketing that focuses on using motivational triggers, like premiums, special pricing, discounts, etc., to promote the sale of a product or service. If you're a coffee shop, offering a time-limited free brew with any order won't hurt. But it'll certainly give people a reason to walk inside your cafe.
By implementing proximity marketing with beacons, you can send exciting offers to people in your location. If you're a clothing shop, for example, you can send advertisements offering a flat $10 off on a purchase of $100 and above. This would be an effective trigger for people who wanted to buy clothes but were procrastinating for some reason.
Businesses can also drive real-time engagement with QR codes. Who doesn't like discounts? Create a QR code using a QR code generator and put it outside your store. Link it to a discount coupon. Ask the customers to walk inside the store with the coupon and get a flat discount. Apart from putting up the code outside your store, you can also print it on your store's door and windows to boost scans and engagement.
Contests and Events
Creating contests and events is an old-school approach to drive local engagement. And it still works better than ever, but a few things have changed for the good. Back in the day, businesses hosting local events would rely on social media on word-of-mouth marketing to drive engagement.
Let's say you're a restaurant that has launched a new dish, and you're inviting people to taste it for free. You've promoted your contest on social media, and people who follow you know about it. But what about customers who aren't connected with you on social media? How will you reach out the word to them and invite them to take part in your little event?
One way is to deploy a local team to personally invite everyone who is near your restaurant's location. This approach, although effective, has a drawback. To drive engagement on a large-scale, a lot of your employees will need to go out and invite people.
Proximity marketing, on the other hand, is a cost-efficient and highly effective strategy to drive real-time engagement for your local event. With beacons, you can send invitational messages to people in your location and encourage them to walk inside your restaurant.
It's All About the Timing
Timing is a crucial factor that makes location-based marketing so effective at driving real-time engagement. People are most likely to make a purchase when they're in a shopping mindset. There's no better time to send promotional messages to customers when they're actually shopping.
Location-based marketing is time-dependent. If you're located in a busy area, the chances are that people in the area are already shopping. Therefore, sending them promotional messages using beacons increases your chances of driving instant engagement and increasing sales.
Experiential Marketing
Experiential marketing, also known as engagement marketing, participation marketing, and on-ground marketing, is one of the most effective location-based marketing strategies. The idea behind experiential marketing is to invite customer participation to create a meaningful connection between the brand and the customer.
The restaurant example we discussed earlier was an example of experiential marketing. However, the scope of experiential marketing is much more widespread. Misereor, a German relief NGO came up with an interesting experiential marketing campaign to encourage donations from people. An estimated 357 billion non-cash transactions are made every year. We're almost in the habit of pulling out a card every time we need to make a payment. Misereor decided to put this habit to good use.
They set up SocialSwipe – a digital poster equipped with a card reader. People could swipe their cards and make a nominal donation of 2€. The poster had an image of bread, and the card reader was installed between the bread loaf. When someone swiped their card, a slice of bread in the photo would cut, making it look like cutting a piece of bread. Misereor set up SocialSwipe across Germany on airports, banks, etc.
Hybrid Engagement – Online + Offline
Connecting the dots between online and offline communication can help businesses engage their offline customers. 78% of location-based mobile searches end with an offline purchase. Therefore, investing in local SEO and email newsletter services can be critical to offline engagement. Including a phone number and map directions to your store can go a long way in bringing more customers.
Moreover, when customers search for your business online, they look for more than just your location. They check your website, online reviews, and other content that helps them learn more about your business.
But what about customers who aren't online? Local businesses need a way to engage their offline-only customers. Here's where hybrid engagement comes into play. By integrating your online and offline marketing campaigns, you can deliver online experiences to your offline customers.
QR codes can help you bridge the online-offline gap. You can put up QR codes on your offline marketing materials, like billboards and brochures, and link those codes to your website, social media, or other engaging content.
Walmart fused OOH advertising with QR codes with its Virtual Toy Store. The retail band put up a large billboard with images of various toys. A QR code was included with each toy, redirecting to the toy's product page on Walmart's website. Customers could scan the codes and purchase the toys online.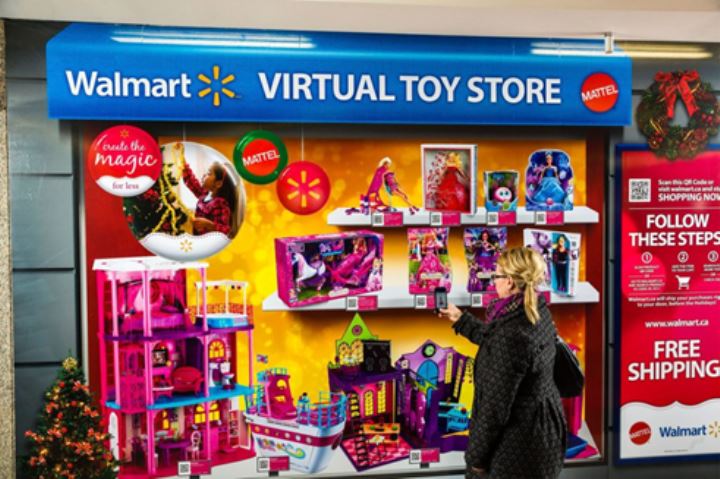 How to Come Up with a Winning Location-Based Marketing Strategy?
The benefits of location-based marketing are substantial, but implementing and executing it can be slightly tricky. Businesses need to know what they're doing and devise a strategy that aligns with their overall objectives.
Here's a four-step blueprint for creating a location-based marketing strategy that delivers guaranteed results.
Establish Your Goals: The first step in creating any marketing strategy is to establish clear goals. Determine what you want to achieve – awareness, engagement, leads, sales, or something else.
Explore Location-Based Technologies: Numerous location-based marketing technologies are available, such as QR codes, beacons, GPS, augmented location, etc. Acquaint yourself with these technologies and find what works the best for you.
Integrate with Online Channels: You won't be leveraging the true potential of location-based marketing if you don't integrate it with your online channels.
Create Irresistible Offers: If you want to engage your customers offline, give them a reason to do so. Create an irresistible offer and provide them with some incentives and benefits.
Final Thoughts
Engaging your customers is the cornerstone of building long-term relationships and loyalty. However, with the competition increasing, it can be challenging to maintain high levels of engagement. Fortunately, location-based marketing is one of those less-prevalent marketing strategies that can be monumental in boosting real-time customer engagement.
Related Marketing Articles