How To Use Customer Reviews To Improve Local SEO
Did you know your customer reviews affect your local ranking? Learn how to use these reviews to your advantage and improve your rankings.
If you want your business to succeed, you need to impress your customers with great service. Search engines and customer review sites understand this. Customer reviews play a critical role in the exposure that your business gets in the search engine results.
What is the importance of local SEO?
Local SEO is critical for many businesses. According to Think with Google, smartphone inquiries for "where to buy" and "near me" increased by more than 200% between 2017 and 2019. Data provided by Google also reveals that 50% of local searches on a smartphone, and 34% on a tablet or computer, result in a sale within 24 hours.
So more people are doing local searches, and these searches convert.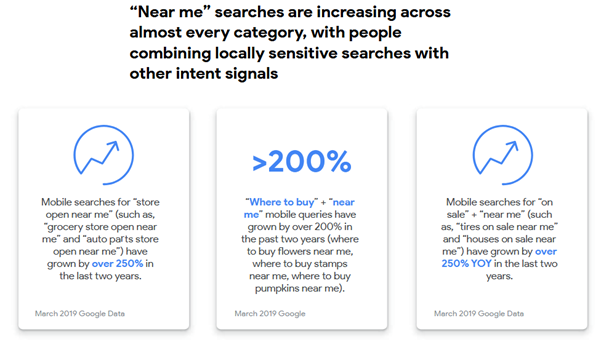 A high presence in local search results will also increase the visibility of your business. Finally, it can reduce your Google Ads expenses.
In other words, local search is important for many businesses. Now, let's discuss how you can use customer reviews for local SEO.
How do I use customer reviews for local SEO?
There are various ways you can use customer reviews to improve your local SEO results. Most of this article will focus on Google My Business. The reason for this is the 3-Pack.
In case you didn't know, the 3-pack is the box that appears at the top of Google's local search results consisting of three local listings results. Each listing has information such as customer reviews, photos, and a map showing your location.
When it comes to local SEO, the 3-Pack dominates local search results, even though ranking higher on organic search results is equally crucial. Online customer reviews have a critical impact on ranking in this 3-pack.
Alongside strategies to boost your 3-pack ranking, we'll also look at other ways you can use customer reviews to boost your search results.
Google My Business Reviews.
When someone searches for a local business, Google automatically pulls up results from Google My Business Listings.
Set Up Google My Business.
It's easy to set up a Google My Business account. Take the following steps:
Sign in to the Google My Business account with your email address. Here's a

link to the page

.

Enter the name of your business. Then, select the category that best matches your business. Incorporating keywords to your business name won't help you rank, so don't bother.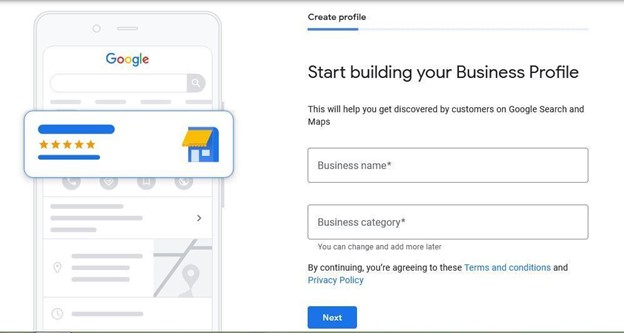 3. Next, you'll be asked whether you want to add your business address. Provide the location.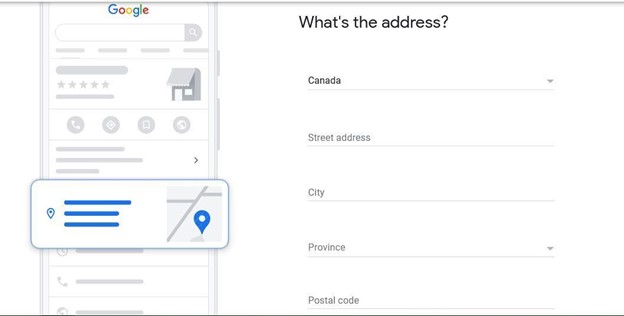 If you don't have an address, you can share the locations where you serve clients.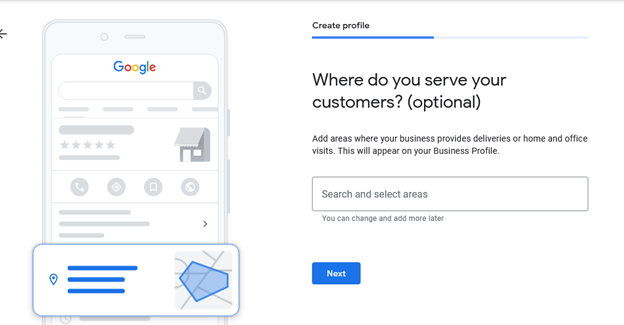 4. If you provide a physical location, you'll be asked to drag the red marker to your location and drop it.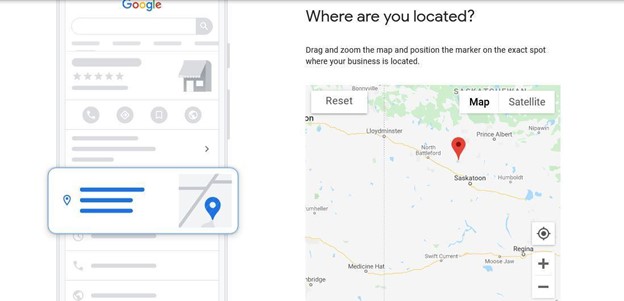 You won't have this step if you don't have a physical location. Google will display the regions selected in the previous step.
5. Next, enter your phone number and website. Those will be shown on your panel so that consumers may contact you.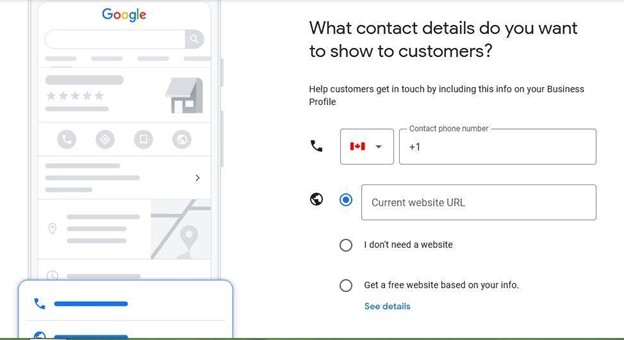 6. Enter various aspects of your listing, pictures, business description, your business hours, and messaging.
7. You'll need to verify your business. Enter your physical mailing address. Google will send you a postcard with a number to verify your listing.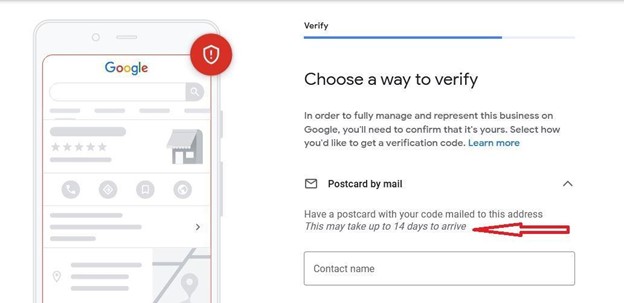 So that's how to set up Google My Business. The process is straightforward. Next, let's discuss how you can boost your Google My Business rankings.
2. Your ranks are affected by Google reviews.
Once you have a Google My Business listing, you should start receiving reviews. That will happen organically over time.
Google customer reviews give powerful signals to search engines that your business has the E-A-T (expertise, authority, trust) factors that the algorithm seeks. The more positive customer reviews you get on Google My Business, the higher you'll start to rank.

You should have a system that makes it easier to gather feedback from your clients. For example, after serving a customer, you could ask them to leave a review on review sites. Most satisfied customers will be more than happy to leave your business a glowing review.
Depending on the business you are running, you can automate the process of asking for customer feedback. For example, if you're running an online business, you could send a customer an automated email after you have provided a receipt asking them to leave feedback about your business. If you're running a brick and mortar store, you can ask customers to leave their calling cards, add their email addresses to your mailing list, and send them the same kind of email. Automated text messages work just as well too.
You should acquire these reviews ethically and organically. Google is aware that lots of businesses try to manipulate the algorithm. They look out for suspicious behavior, like a business getting 100 reviews in just a week. Equally, there's probably a weighting system for reviews. A review from a premium reviewer, i.e. people who leave a lot of reviews, is probably a good trust signal to the algorithm.
Essentially, try to ethically collect as many positive reviews for your business as possible. Ideally, you should have an ongoing system in place to collect reviews from your customers. In turn, you'll start seeing your Google My Business rankings slowly climb.
3. Respond to Reviews
Google encourages companies to reply to reviews. Responding to reviews is unlikely to boost your search results, but it will show prospects that you're committed to customer satisfaction.

Besides, customers receiving a response from a company after writing a bad review may consider changing their review to a positive one. Some might even remove the negative one. Engaging with reviews- both good and bad- is key to growing your business and helps you scale your projects in the right direction.
4. You are always at the mercy of Google.
Unfortunately, Google does not share the factors that impact a business's rankings on Google My Business. You can take an educated guess, and you can validate your assumptions with data. At the end of the day we are at the mercy of the search engines algorithms. Staying on top of trends by taking SEO certification courses can give you an edge, but it's not a guarantee of results.
The results that Google provides can run against what you'd expect to find. Take this example for "mechanic in Los Angeles".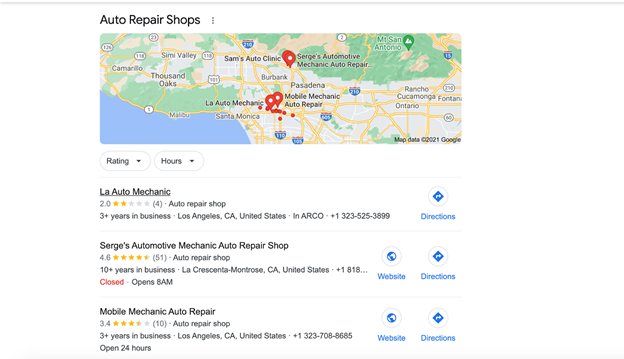 The top-ranking search result is for a business with a two-star rating that has four reviews.
One of those reviews starts with the phrase, "the worst place to take a car for inspection." Hardly a ringing endorsement of the company.

Conduct a search using the same term from a different location, and you'll get different results. Check out the result below.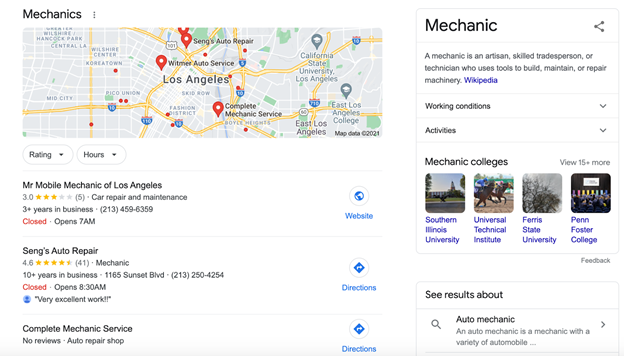 The middle result is still in the 3-Pack, but the first and third listings were replaced.
While an optimized Google My Business Listing and good reviews will make people more likely to click through to your listing, it does not guarantee that you'll appear in the 3-Pack. It's something you should keep at the back of your mind if you're trying to rank on Google My Business.
2. Take advantage of UGC on review sites
Another way to improve your search results is by increasing your rankings on other business review sites. For example, TripAdvisor dominates many of the search results for travel-related terms. Rather than making your content rank directly in the SERPS, you can indirectly rank your business through one of these sites.
The best way to see if this makes sense for your business is to check the local search results for terms related to your company. If you see a third-party site like Yelp appearing high in the search results, it probably makes sense to improve your standing on that site.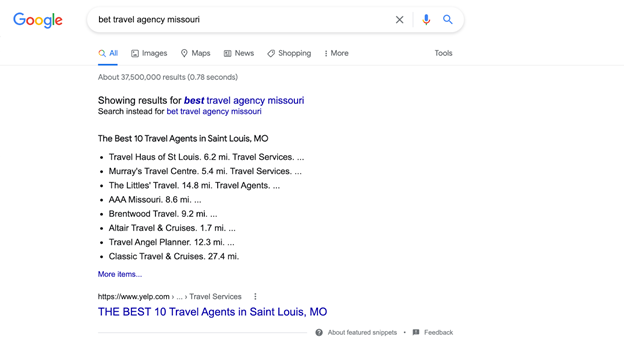 The process for ranking a business on a review site follows many of the same fundamentals described in the previous Google My Business section. First, you need to sign up and create a business listing on the respective site. Then, you will need to collect reviews on the site.
The benefits of this approach are similar to getting your content ranking on Google My Business. As the example above illustrates, you can even get a featured snippet listing with this approach.
3. Add Rich Snippets To Your Site
If you have a rating system on your blog, eCommerce site, app, or another website, you may consider using structured data to display the rating on your site. It's a good idea, and for years local businesses used this approach to boost their Click Through Rate (CTR).
Unfortunately, as of 2019, Google stopped displaying what it terms as "self-serving" reviews in local search results. They will not display rich snippets for product or service listings. You can read more about why Google decided to implement this policy in this article on BrightLocal.
Focus on providing a great service.
Collecting positive feedback on third-party sites and through Google My Business is a great way to increase your presence in the search results. As mentioned earlier, you will need to have a system in place to collect these reviews from satisfied customers. These happy customers are often a great source for new leads and help you grow your business.
More importantly, you need to focus on providing great customer service to clients. Try to find out what they like about your business from your customer base and where they think you can make improvements. That will generally involve improving the way you handle customer communication. For instance, when running a restaurant, always make sure you ask for feedback right after the customers dine with you through online feedback forms, comment cards, or encouraging them to rate your services.
You should have a system in place to monitor customer satisfaction as well. Logical Key Performance Indicators to measure include your Net Promoter Score and Customer Service Satisfaction.
Wrapping Up
If you want to improve your position in the local search results, you need to gather positive customer reviews. One key element of your approach needs to be focused on Google My Business listing. Alongside collecting positive business reviews on Google My Business, you should also consider improving your standing on relevant third-party sites related to your niche. You can improve your ranking by gathering positive customer feedback through these sites too.
Related Marketing Articles