How To Start A Photography Business
As a photographer, you might be wondering how to make the most of your business, get people to patronize you, and ultimately make more profit from your skill.
Presumably, you must have mastered the skill of photography to some level, practiced for some time, and even made a few bucks off the craft as a side hustle. But you now see the need to step up your game and maximize your potential by starting a photography business.
Starting a photography business is quite demanding. But while a degree in business administration might be a good idea, the following eight steps are a great starting point when looking to start a photography business.
1. Set Your Photography Business Goal
As a photography business owner, you need to have a workable goal. Business goals allow you to work toward the benefits you aim to get out of a particular business venture.
While setting your business goal, you need to ensure that you are setting SMART goals. A smart photography business goal meets the following criteria:
● Specific: Most people make the mistake of setting vague goals like "I want to be more productive." You can simplify and be more specific by stating, "I want to capture and edit 15 pictures daily."
● Measurable: You need to set goals whose metrics can be evaluated with the help of relevant Key Performance Indicators (KPIs). From the example above, you can measure the performance of your goal by verifying if you captured and edited 15 pictures per day.
● Relevant: For instance, if most of your local search results are inquiries about pet photographers, it suggests that offering services for pet photography and related terms will be a relevant goal.
● Achievable: Set realistic goals that you can attain. Also, be sure that the success of the goals is independent of external factors beyond your control, like social-cultural and political factors.
● Time-bound: Aim to achieve your goals within a limited time frame to measure your effort and the actual success of that effort.
Setting your goals using this criterion will help you create better goals that will help you to start a photography business and run it successfully.
2. Find Your Niche
Your niche is the area of the photography industry where you demonstrate mastery or your highest level of competency.
As a sole proprietor, some of the most common photography niches include event photography, product photography, wildlife/nature photography, portrait photography, wedding photography, real estate photography, and fashion photography.
You can start by researching all niches, then answer the following questions to narrow down to the most fitting niche.
● What type of photography interests you?
● Do you have a high degree of competence in capturing and editing such pictures?
● What kind of photography skills are in demand, and how profitable is it?
● Where do your customers live? Can they get to you, or can you get to them easily? This will help you get to your niche locality.
● Are there other photographers offering similar services in your locality?
● What unique services are you offering compared to your competitors?
Finding your niche will help you focus on a particular aspect of photography and grow further with time through experience.
3. Estimate the Cost to Get Started
It is imperative to analyze the cost of starting your photography business. The average startup cost for a photography business ranges between $10,000- $15,000. Research also shows that running out of cash and the failure to raise new capital is among the top reasons startups fail, as you can see in the image below.
The numbers considered, it is imperative to meticulously estimate the cost of your photography startup business before spending a dime.
Business startup costs can be divided into two major categories:
● Fixed costs: These are the costs of fixed assets. They are time-based, such as the studio space rent, and are independent of the number of clients you have.
● Variable costs: These are ongoing costs that change as the output changes. Some variable costs in your photography business include the cost of photo papers, delivery costs, packaging costs, and so on.
During cost estimation, ensure you list out all areas of expenses—both solid and tentative areas. You should also do a break-even analysis of your business while identifying the possible sources of your business capital to keep your revenue and expenditures balanced.
4. Conduct a Market Analysis
A market analysis studies the dynamics of a business in a particular industry, which helps you define the best means of achieving your business goals. It will help you determine how to position yourself in a crowded market, attract potential customers, and meet customer expectations.
To conduct a successful market analysis, you need to answer the following questions:
● What is my goal?
● Who is my target audience?
● How often are they busy?
● What is their demographic strength?
● How much will they be willing to pay for my services?
● Who are my competitors?
● How large is their brand?
● Do they have any value chain gap that I can capitalize on?
To help analyze the success chances of your photography business, you can conduct a Strength, Weakness, Opportunity, and Threat (SWOT) or a Mission, Objectives, Strategy, and Tactics (MOST) analysis.
Below is a simple sample of how MOST analysis for your photography business might look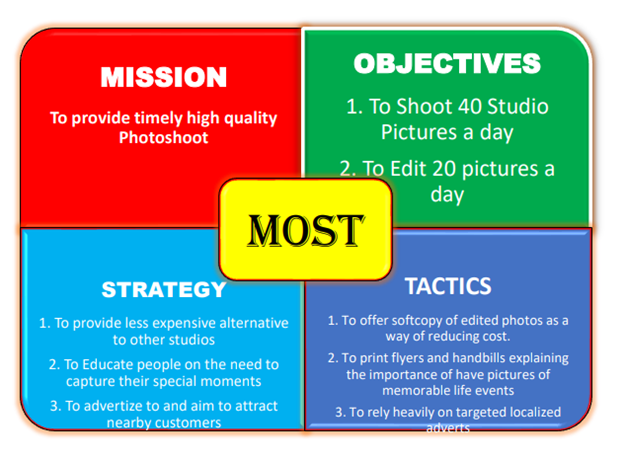 In MOST analysis, the Mission tries to explain why you are starting your photography business, while the objective focuses on the milestones you plan to achieve to accomplish your mission. On the other hand, the strategy outlines how you plan to achieve these objectives, and the tactics state the method you will use to meet your strategy.

5. Write a Successful Business Plan
A business plan is a document that states your objectives and strategies for achieving them. A good business plan guides you on how to start and manage your business.
While writing your business plan, you should start by picking a business plan format that suits you. There are two common categories of business plans:
The Traditional Business Plan Template: This is a comprehensive and detailed template. Most lenders often request the traditional template before offering you loans. Some of the details in the traditional business template include:
● Executive summary: A summary of all the details in the business plan. It precedes the business plan, but it is usually written last.
● Company description: A description of your company, the industry you belong to, services rendered, and so on.
● Marketing and sales: This states your proposed marketing and sales strategy.
● Funding request: If you are asking for funds, this is where you place the request and the criteria.
● Appendix: Use this section to provide supporting documents, such as your resume and product images.
Below is a screenshot sample of a traditional photography business plan.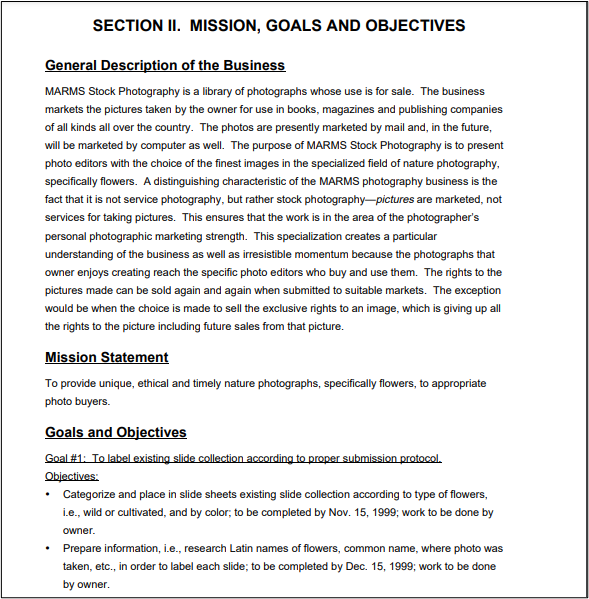 Note how the sample clearly describes the business and includes a mission statement and several objectives.
The Lean Startup Business Templates: You can use this format if you just want to outline the salient points of your business, if your business is quite simple, or if you plan to make changes as your business progresses.
Below is a lean startup business template.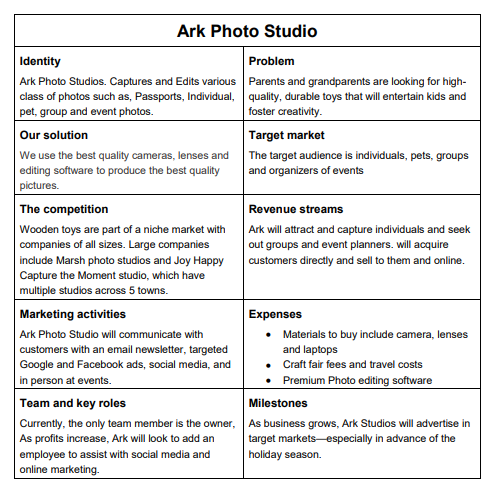 Note how all the key points are included on one page of this lean business plan.


Whether traditional or lean, a good business plan will help you
manage your business finances
judiciously and optimize ROI. You can use any of the templates to craft a successful business plan that will suit your photography business.
6. Buy the Required Equipment
You need to determine and purchase the required photography equipment that will enhance your work output rate and quality. Focus on getting the vital equipment first and improvising where you can.
Some vital photography startup equipment includes:
● Camera and lenses: Various models of cameras and lenses are available in the market. Some of the most recognized names include Canon, Nikon, and Sony. Get a quality camera and lenses that will require regular repairs or replacement.
● Camera bags and straps: The camera bag prevents damage, ensures ease of storage, and reduces dust, among other advantages.
● SD cards: The cards store all the pictures you capture. You can also use them to transfer your images to your editing device.
● Photo editing computers and photo editing software: it is vital to employ quality photo editing software like Adobe Photoshop or Final Cut and run them on a computer with high processing speed.
● Lighting: You can acquire various kinds of lighting to help recreate the studio environment to suit your taste.
Note that due to budgeting constraints, it is paramount that you have a scale of preference for your equipment based on the order of importance.
7. Decide the Pricing Plan
As a startup, your pricing plan can determine the success of your business. There are many ways to set up your pricing strategy, but you need to consider your competitors and their strategy before you create your pricing plan.
There are various pricing strategies you can follow, including:
● Cost-plus pricing: In this strategy, you fix the price of your product by calculating the cost of producing the finished product, then mark up some percentage on it as a reward. This is quite basic and ensures marginal profit for every successful sale. So you can use this strategy if you offer high-quality photo prints.
● Penetration pricing: This is used when you have many competitors, which is when you offer comparative services at a lower price to entice customers and gain market share. It sacrifices profitability for a higher market share.
● Dynamic pricing: This pricing plan is dependent on market factors such as the quantity of demand, purchasing power parity of the population, Government Policy, etc. It should be used when you are in a saturated market and have to adapt.
● Value-based pricing: this price is fixed based on the perceived value attached to the product. This plan mainly attracts the highest revenue.
Finally, you'll also need to conduct a competitive analysis and understand the market price before settling on a pricing plan. This way, you'll come up with prices that will give you a competitive advantage but still help you make a profit.
8. Have an Online Presence
Having an online presence bears many advantages for you as a photographer. For example, you can create a website where you display your edited works or even geolocate your business on Google maps to ensure that people can easily find your studio. You can also write a press release on a web platform to make important announcements about your business to your audience.
Below is an example of a photo studio website from Andres Hernandez with a great online presence.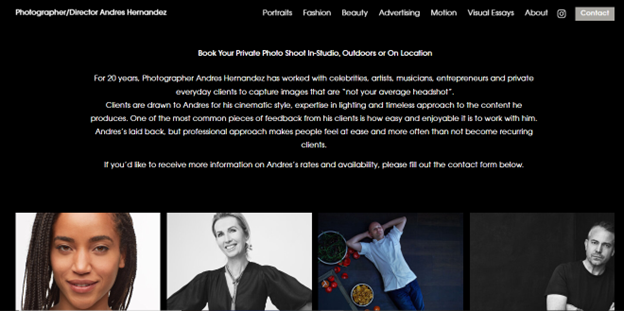 Note how the Andres Hernandez studio clearly shows niche specialties on its website. They also include some of their work and testimonials from previous clients, which would help their web visitors gravitate towards working with them. The studio also has an active and appealing Instagram page, as shown below.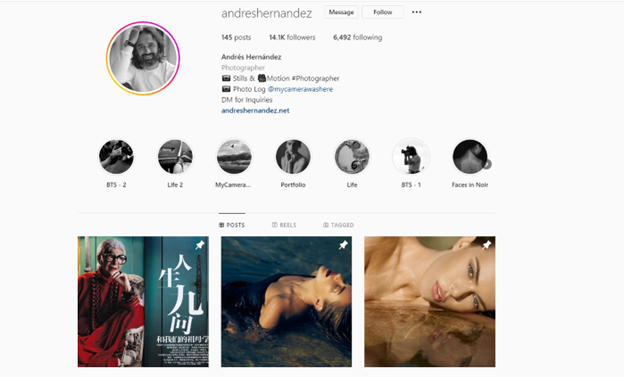 Leveraging the internet can help your business create more awareness for your photo studio, run a targeted ad, interact with customers, and easily book appointments with you.
Create an online presence for your new studio, and watch as you connect much more readily with customers
In Closing
To start a successful photography business, you must define your business goals within a particular niche. After which, you will estimate the cost of setting up your business and do a market analysis to discover the trends and profitability of your business model in that niche.
Besides that, you also need to understand that writing a successful business plan is synonymous with setting a procedure to ensure success.
A bad workman quarrels with his tools. Thus, getting the right equipment is essential for your business success and will help you to deliver quality products within your selected pricing plan. In addition, if you have to compete favorably, you need an online presence to gain more clients.
Follow these tips and start building a successful photography business. All the best!
About the Author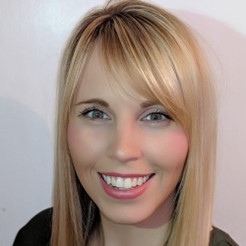 Stacie is an experienced marketing professional with a history of working across a number of different commercial products and industries. Stacie is extremely skilled in brand comms, campaigns, stakeholder management, relationship building and product management. She has worked at Cewe for more than four years and previously worked in marketing in roles at The Camping and Caravanning Club and Coventry City Football Club.
Full Biography